Front Line: Souleymane Ouedraogo, WaterAid
This month WWT meets Souleymane Ouedraogo, who builds toilets as part of a WaterAid-funded programme in Ouagadougou, Burkina Faso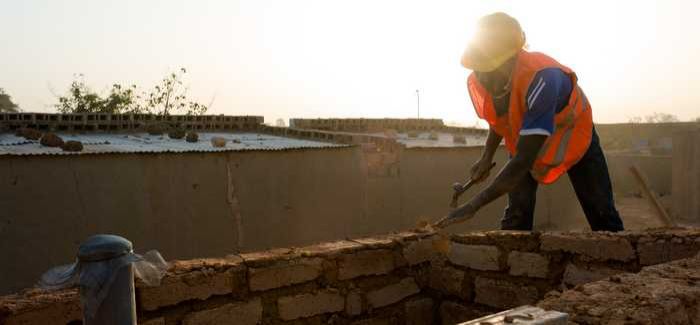 Souleymane Ouedraogo at work (photo: Nvani Ouarmvne Panos-WaterAid)
What's the main purpose of your job role?
I build latrines for families so they have somewhere safe and private to go to the toilet. This area wasn't included in the original plans for Ouagadougou and so there are limited sanitation services and open defecation used to be a problem. Toilets are so important for hygiene, dignity and, most importantly, for health.
When did you start working in the water industry and what led you to your current job?
I didn't get the chance to go to school so it was difficult to find a job. I tried lots of things including helping my dad to sell second-hand clothes in the market and body-painting work for cars. I began working as a trainee mason in 1996. I used to help other masons build houses, schools and school toilets but the latrine building has become my main job since I met WaterAid's partners ACD who manage the sanitation project in my district. I worked with ACD to build my own toilet!
Describe your typical working day.
I wake up, drink some coffee and get ready to go to work. I arrive on my motorbike around 8am, check my materials and start work. I break for lunch for at least 15 minutes and then continue building until 4:30-5pm so I can be home before it gets dark. Generally a toilet takes two days to build – as long as the materials are in place and there are no problems with the pit. Through this project we want to build or repair 1,100 VIP toilets (ventilated improved pit latrines).
What attributes do you need to do your job well?
A mason needs equipment: a wheelbarrow, shoes, gloves, vest and a helmet. If you have the equipment and you like working, you will do your job well.

What is the most rewarding aspect of your job?
I believe it is really important for homes to have a toilet. Toilets are a tool for health, for freedom and for dignity. The more we build or repair, the more we are helping to protect people from diseases. It makes me happy to see people appreciate their new toilets and take good care of them after they have been built.
Which people have had the most influence in shaping your career?
I learnt a lot from the other masons I have worked with. They not only gave me the skills to build toilets, they also taught me about the importance of good foundations and detail. To truly understand a mason's skill, you need to look at the bottom of a wall.
When not at work, my ideal way to unwind is…
I run a kiosk near my house where people come to chat and I sell coffee, tea, bread etc. I am also the youth president for my district and during the summer holidays I help to organise football games and 'maracana' competitions for children and young people.
-WaterAid works to deliver vital water and sanitation services worldwide and campaigns for change. Find out more at www.wateraid.org
comments powered by

Disqus