Front Line: Phil Jones, Network Manager, Dee Valley Water
WWT meets Phil Jones, who is tasked with keeping the water network flowing in Dee Valley Water's service region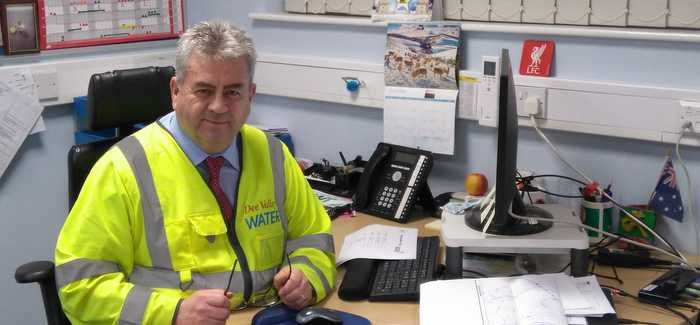 Phil Jones in Dee Valley Water's Wrexham office
What's the main purpose of your job role?
My principal role is to ensure that our customers are kept on a constant supply of water with the minimum interruption and inconvenience to their day to day activities.
Describe your typical working day.
The working day goes so quickly, being involved with a myriad of operational issues both on a day to day basis and a strategic basis, ensuring the network is kept running and always trying to look towards building a smarter network.
When did you start working in the water industry and what led you to your current job?
I started with the company on 21 August 1978 serving a 5 year apprenticeship, in which I spent a minimum of 6 months with each department of the organisation. After serving my apprenticeship my first role was that of Revenue Inspector which involved property surveys, meter reading and customer calls. Following this I worked as a Distribution Inspector, a role I thoroughly enjoyed, which effectively is today's role of Network Inspector. During this period the company embarked on mains rehabilitation contracts of various kinds, and I worked my way from Rehabilitation Inspector to Rehabilitation Manager. I then moved back into the engineering section as Project Manager for a couple of years, eventually gaining the position of Senior Project Manager, a position I held for over 12 years overseeing infrastructure renewals and Developer Services for the Company. In early 2015 I was offered the position of Network Manager, a section where I enjoyed the best years of my career, and couldn't resist the challenges this role offers.
What attributes do you need to do your job well?
The ability to resolve problems and deal with issues on the go, listen to staff and ensure they are equipped to carry out their duties in the best possible way.
What is the most rewarding aspect of your job?
I thoroughly enjoy the team ethos where ideas and resolutions to difficulties experienced can be shared and resolved efficiently.
And the worst aspect?
Programming and decommissioning or replacement of our older assets.
Which people do you work most closely with in your working day?
Predominantly it is the Network Inspectors and Regulations teams, however, contact is continuous at all levels throughout the business.
When not at work, my ideal way to unwind is…
I like to spend time with my family and enjoy the odd game of golf with my mates. I am a keen Liverpool supporter and am enjoying watching their continued success under their new manager.