Stanton Bonna
About
Stanton Bonna is part of the Consolis Group, Europe's largest precast concrete producer, and is widely recognised as a leading UK manufacturer of precast concrete pipes and manholes as part of a comprehensive range for Drainage Systems, Pressure Systems, Railway Products and Specialist Precast solutions. The company manufactures for the water, highways, rail, housing, telecom and power sectors of the construction industry. Stanton Bonna has an excellent reputation for high standards in product quality and customer service. Working together with a network of specialist heavyside merchants or direct with design engineers and contractors, their professional, helpful and friendly staff meet the daily challenges of supplying the right product, to the right standard and to the right location reliably and promptly. Whether supplying a small local project or a fast moving multi-million pound project with complex delivery arrangements or challenging design and manufacturing demands, Stanton Bonna have the experience to meet customer needs.
Contact
Jeanette Edwards
Littlewell Lane
Stanton by Dale
Ilkeston
Derbyshire
DE7 4QW
www.stanton-bonna.co.uk
Watertight Manhole System
The needs of the market are changing and to meet the new demands for health and safety, quality, construction speed and water tightness, Stanton Bonna have introduced the Perfect Manhole System.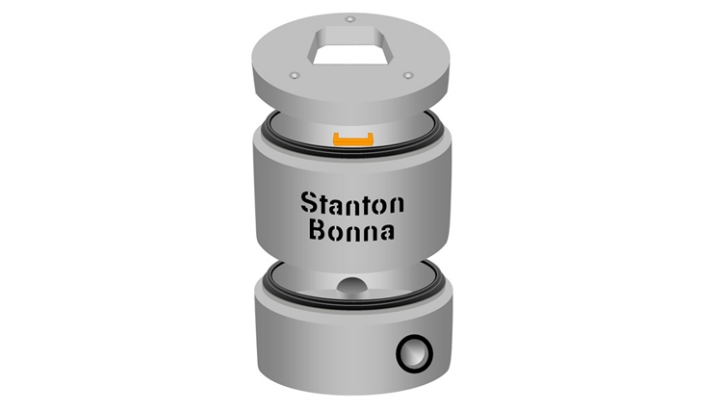 The Stanton Bonna Watertight Manhole System is a precast off-site solution which enables contractors to install a modular water tight manhole without the need for a concrete surround.
Made here in Derbyshire, this quick assembly system comprises of a monolithic precast concrete base pre-benched to any inlet / outlet configuration, together with thick walled chamber rings with water tight joints incorporating an elastomeric gasket and a sealed cover slab. The system also incorporates push fit elastometric seals for inlet and outlet pipes.
Specifiers, designers and contractors can be assured that the Stanton Bonna Watertight Manhole System offers a safer, faster, sustainable, off-site bespoke manhole solution.
Features
Available in DN 1200 and DN 1500.
Available in section depths of 250, 500, 750 and 1000mm.
Reducing slabs available.
Available with or without steps.
Available with or without benching.
Installation guide available.
Base unit available to suit standard tongue and groove joint chamber rings.
Projects
Installed throughout the UK for adoptable and non-adoptable projects including water, housing, highways, industrial and rail projects including:
Marks & Spencer Distribution Centre, Castle Donington.
Clay Farm Housing Cambridge for Countryside Properties.
London 2012 Olympic Park.
Atomic Weapons Establishment, Aldermarston.
Sandlands Way Housing, Mansfield.
Lakeside Housing, Scunthorpe.
Main Benefits
Safer Installation
Reduced work in open excavation.
Eliminates work in confined spaces.
Eliminates difficult wet trades work.
Safer construction.
Safe lifting equipment.
Flexible Design
Bespoke base design.
Inlet and outlet seals connect securely to all common DN 150 - 600 pipes.
Seals available in SBR and nitrile to BS EN 681-1.
Adaptors not usually required.
Wide range of inlet and outlet configurations.
Faster Construction
Rapid installation in minutes.
Inlet and outlet connection invert levels pre-set.
No on-site finishing required.
No lifting holes to fill.
No jointing strip required.
No concrete surround.
Continuous pipe laying.
Short notice availability.
Take off service available.
Complete watertight solution in one unit.
High Quality
Watertight system – base, rings and slabs.
Manufactured to comply with BS EN 1917:2002 and BS 5911-3
Kitemarked and CE Marked as required.
Quality controlled factory made.
High quality benching surface finish.
Subject to manhole configuration the benching complies with Sewers for Adoption.
Precise connection positions and channel gradients.
Monolithic base.
Flexible connection reduces settlement risk.
Perfect hydraulics.
30 to 43% lower carbon footprint than traditional, box based and plastic manholes.