Stanton Bonna
About
Stanton Bonna is part of the Consolis Group, Europe's largest precast concrete producer, and is widely recognised as a leading UK manufacturer of precast concrete pipes and manholes as part of a comprehensive range for Drainage Systems, Pressure Systems, Railway Products and Specialist Precast solutions. The company manufactures for the water, highways, rail, housing, telecom and power sectors of the construction industry. Stanton Bonna has an excellent reputation for high standards in product quality and customer service. Working together with a network of specialist heavyside merchants or direct with design engineers and contractors, their professional, helpful and friendly staff meet the daily challenges of supplying the right product, to the right standard and to the right location reliably and promptly. Whether supplying a small local project or a fast moving multi-million pound project with complex delivery arrangements or challenging design and manufacturing demands, Stanton Bonna have the experience to meet customer needs.
Contact
Jeanette Edwards
Littlewell Lane
Stanton by Dale
Ilkeston
Derbyshire
DE7 4QW
www.stanton-bonna.co.uk
Precast Concrete Pipes
Customers have successfully installed our circular precast concrete pipes for the past 90 years on a diverse range of projects, across the length and breadth of the UK, from a few metres to tens of kilometres on major road projects. Circular concrete pipes are available in an extensive range from DN 300 to DN 2400 with a full range of fittings including bends, fixed branch and universal junctions, rocker and butt pipes.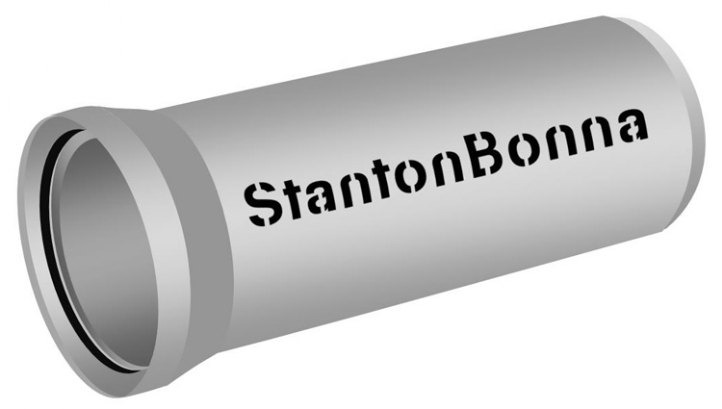 Pipes are available with integrated gasket (IG) joint for DN 300-1800 and
sliding gasket (SG) joint for DN 2000-2400.
Products are resistant to DC4 of sulfate attack, as defined in BRE Digest SD1 2001.
IG joint pipes employ an integrated gasket cast into the pipe socket.
SG joint pipes employ a sliding gasket fitted onto the pipe spigot.
Contact our Technical Team for information on compatability with other makes of pipe.
Gaskets are manufactured in SBR or EPDM and comply with BS EN 681-1.
Nitrile gaskets are available upon request for the majority of sizes.
Pipes are vertically cast using vibration to compact a semi-dry concrete mix into the mould.
Circular pipes and fittings are manufacturing to BS 5911-1 and BS EN 1916.
New users should refer to our handling and installation instructions available here.