Stanton Bonna
About
Stanton Bonna is part of the Consolis Group, Europe's largest precast concrete producer, and is widely recognised as a leading UK manufacturer of precast concrete pipes and manholes as part of a comprehensive range for Drainage Systems, Pressure Systems, Railway Products and Specialist Precast solutions. The company manufactures for the water, highways, rail, housing, telecom and power sectors of the construction industry. Stanton Bonna has an excellent reputation for high standards in product quality and customer service. Working together with a network of specialist heavyside merchants or direct with design engineers and contractors, their professional, helpful and friendly staff meet the daily challenges of supplying the right product, to the right standard and to the right location reliably and promptly. Whether supplying a small local project or a fast moving multi-million pound project with complex delivery arrangements or challenging design and manufacturing demands, Stanton Bonna have the experience to meet customer needs.
Contact
Jeanette Edwards
Littlewell Lane
Stanton by Dale
Ilkeston
Derbyshire
DE7 4QW
www.stanton-bonna.co.uk
Jacking Pipes
Stanton Bonna offer a range of jacking pipes suitable for installation with modern jacking techniques. This safer, faster system has a lower carbon footprint than open cut installation.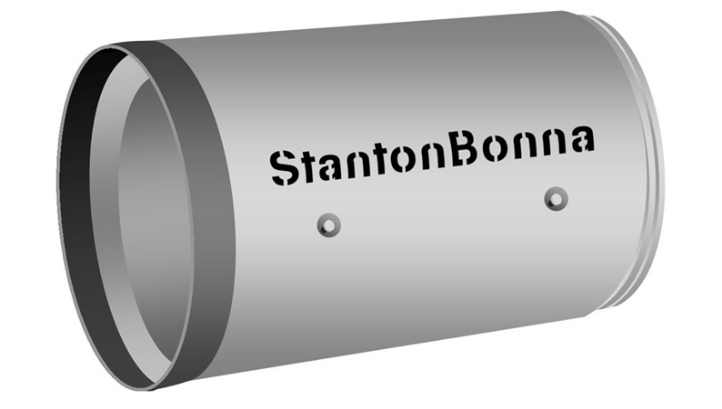 The joint incorporates the well proven steel collar and elastomeric sealing gasket to ensure a watertight joint.
Mild steel collars are provided with a paint coating. Pipes with stainless steel collars can be supplied on request.
Pipes are vertically cast to produce accurate joint surfaces with square faces and a strong high density concrete.
Interjack stations with integral 'cans' and 'lead' pipes are available.
Grout injection points and a lifing hole can be cast into pipes on request.
Jacking pipes are manufactured to BS 5911-1 and BS EN 1916.
Projects supplied include:
3.2km DN 1200 to Welwyn Garden City Southern Outfall.
276m DN 2500 to Terminal 5, Heathrow Airport.
1.8km DN 1200 to the London 2012 Olympic Park Primary Sewer.
1.4km DN 1200 to Wichelstowe Trunk Sewer.