Stanton Bonna
About
Stanton Bonna is part of the Consolis Group, Europe's largest precast concrete producer, and is widely recognised as a leading UK manufacturer of precast concrete pipes and manholes as part of a comprehensive range for Drainage Systems, Pressure Systems, Railway Products and Specialist Precast solutions. The company manufactures for the water, highways, rail, housing, telecom and power sectors of the construction industry. Stanton Bonna has an excellent reputation for high standards in product quality and customer service. Working together with a network of specialist heavyside merchants or direct with design engineers and contractors, their professional, helpful and friendly staff meet the daily challenges of supplying the right product, to the right standard and to the right location reliably and promptly. Whether supplying a small local project or a fast moving multi-million pound project with complex delivery arrangements or challenging design and manufacturing demands, Stanton Bonna have the experience to meet customer needs.
Contact
Jeanette Edwards
Littlewell Lane
Stanton by Dale
Ilkeston
Derbyshire
DE7 4QW
www.stanton-bonna.co.uk
Box Culverts
Stanton Bonna offer a complete range of culverts including, Box Culverts, AquaCulvert and Elliptical Culvert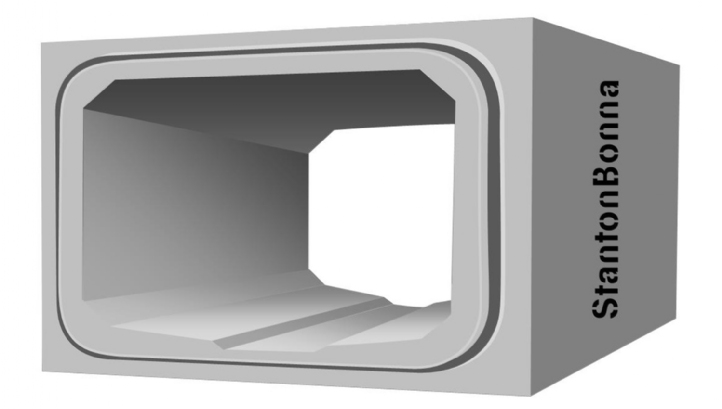 Box Culvert applications include water course diversions, attenuation, tunnels and subways, stormwater and foul sewers, and access shafts. Smaller sizes are also used for dry networks including cabling.
Stanton Bonna supply the largest variety of culvert options in the UK with internal diameters from 500 x 3000mm up to 6000mm x 3000mm as follows:
SMALL: Compact Culvert for a small, rapid, economic solution – 500 x 300mm up to 1500 x 700mm.
MEDIUM: AquaCulvert with integrated dry weather flow – 1100mm x 550 up to 2000 x 1000mm.
MEDIUM to LARGE: Box Culverts provide the most flexible and widest range of sizes, lengths and wall thicknesses – 1000 x 1500mm up to 6000 x 3000mm.
In addition to the above Elliptical Pipes can also provide an efficient alternative to Box Culverts – 1000 x 650mm up to 2650 x 1500mm.
All benefit from:
Factory fitted integrated gasket joint for rapid installation.
Cast-in lifting anchors for safer offloading.
Can be used at shallow or deep depths, full design calculations supplied on request.
Project specific bespoke options available.
Manufactured to EN 14844 and in accordance with relevant European standards and CE marked accordingly.
Drawings and installation guide available on the website.