About
Asset International Ltd manufactures a range of advanced technology polyethylene drainage pipes at its facility in Newport, south Wales. Part of Hill & Smith Holdings plc, the company has exclusive UK and Ireland rights to manufacture the Weholite range of structured wall pipe. Weholite was first developed in Finland and is recognised as a lightweight, durable, easy to install and abrasion-resistant product that is tolerant of ground movements. It is manufactured in internal diameters from 400mm to 3500mm. The low pressure-high technology pipe offers the construction and water industries a low overall cost solution across a range of applications, including surface drainage, foul sewers, inter-process pipework, culverts, attenuation tanks, ducting and outfalls. Asset has manufactured bespoke designs for companies such as Black & Veatch, Carillion and Bi Water North Midland Alliance on behalf of some of the UK's largest water companies including Severn Trent, Thames Water, Yorkshire Water and Scottish Water.
Contact
Mr Simon Thomas
01633 273081
Stephenson Street
Newport
Gwent
NP19 4XH
www.weholite.co.uk
Asset International expertise helps power potential of Kent biomass plant
With a growing global demand for energy and an increasing acceptance that fossil fuels and nuclear power are not only unsustainable but irreversibly damaging to the environment, developing renewable and sustainable energy sources has become a vitally important necessity.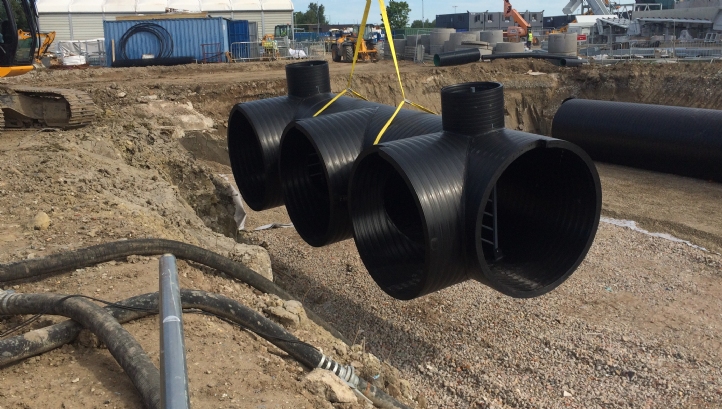 At Asset International, we are no strangers to renewable energy projects. We've offered our expertise and provided solutions to a number of renewable energy schemes across the globe. In fact, our Weholite HDPE pipes are at the forefront of technological innovation and developments within the sector, and have been implemented in a range of projects throughout the UK and further afield with great success.
Most recently, we provided our expertise to Danish engineering and contracting company Burmeister & Wain Scandinavian Contractor (BWSC) on a surface water attenuation system for a new biomass powerplant being developed by the company in Sandwich, Kent.
BWSC undertook a project to reduce the region's carbon footprint and reliance on imported fossil fuels by providing a secure source of renewable heat and energy through a new combined heat and power (CHP) biomass plant.
The new combined heat and power (CHP) biomass plant is set to create a secure and sustainable supply of energy for the area. Powered by locally sourced virgin wood, the plant will generate approximately 27.8 MW of green electricity, capable of supplying up to 50,000 homes.
Having already supplied smaller diameter pipes to the site for general drainage purposes, and with our extensive experience working on successful renewable energy schemes, Asset International was the obvious choice for BWSC when looking for a manufacturer to lend its expertise in bespoke water management solutions for the project.
Due to the site's poor ground conditions, BWSC was looking to integrate a surface water attenuation tank to store surface water drainage and avoid ground settlement in the overlying log storage area.
To achieve this, we provided a comprehensive design service and developed a bespoke solution tailored to the scheme's precise requirements. Construction works in connection with the tank were provided by NBC Construction UK installation.
The result was a multi-leg attenuation tank; a 940m³ six-leg tank of 2.2m diameter HDPE pipes with fabricated manifolds at each end and a fully welded system to ensure resistance to impact.
And that's the beauty of the Weholite product -with welded joints, the HDPE pipe becomes a homogenous pipe line, capable of withstanding any ground settlement without compromising its structural integrity. To further combat the issue of poor soil modulus, a geo-grid was installed to increase ground stabilisation and minimise settlement.
With the tank being positioned under a log storage yard, where it would be subjected to heavy loads, it was also important for it to be able to withstand a worse-case load of 420kN on a single wheel of a Liebherr LH50 log loader.
Weholite was the perfect solution for this added complexity thanks to its natural ability to 'flex', which enables the pipe to adjust to different loading conditions, vibrations, stress and soil movements, without causing damage to the structure.
The product's versatile nature and Asset's ability to deliver unique sections of pipework in a timely manner, enabled them to deliver the project over a two-week scale, saving the client weeks on their initial projections.  
In opting to use Weholite HDPE pipes and attenuation tanks for the project, BWSC recognised the benefits of selecting the lightweight, durable, and abrasion-resistant product that is tolerant of ground movements.
Crucially, as Weholite products are designed and prefabricated at Asset's South Wales factory and delivered to site in modular components, we were able cut substantial time off on-site installation time frames.
Commenting on the choice of Weholite plastic tanks and pipes, Simon Collins, Contracts Manager at BWSC said: "The Kent scheme is BWSC's eighth turnkey biomass power plant project in the UK within the last five years, and the close cooperation with key industry partners, including Asset, has contributed to the successful delivery of the projects."
"We have been extremely impressed with the quality of the Weholite product, which has not only effectively addressed our project requirements, but saved us time and provided excellent value."
Speaking of the project, Asset International Technical Sales Engineer Matthew Thomas, said: "This is a highly successful project and has really cemented a strong working relationship between Asset International, our client BWSC and the installation company NBC Construction UK.
 "Weholite was the ideal solution for BWSC's project requirements thanks to its superior performance in poor ground conditions, long service life and reliability. The product provides all the technical advantages of equivalent PE solid wall pipes but with substantial savings in weight, combining greater ease of transportation and installation, with increased cost effectiveness. We look forward to working on further opportunities with BWSC in the future."