About
Palintest is a leading company in the design and manufacture of water analysis technologies, supplying a comprehensive range of precision instruments for multidisciplinary analysis. Backed by over 70 years of research, our assured technologies are used in over 100 countries and across a variety of applications to protect lives and the environment, assist with regulatory compliance, and facilitate system optimisation. Our firm commitment to product development means we?re continually evaluating new and existing technologies to make improvements to the way we operate. Over the years we have developed a number of market firsts and we continue to push the boundaries of innovation, enabling our customers to make critical decisions with confidence. We take a local view when conducting our business, understanding that different environments require a different approach. From our headquarters in the UK, we work closely with our regional hubs to support local customers; delivering fit for purpose solutions to fulfil regional regulations and requirements. In addition to our hubs in Australia, China, Singapore, the Middle East and the United States, we have also developed a trusted distribution network who are strategically positioned to support your needs.
Contact
Palintest Sales
Palintest House, Team Valley

Gateshead
Tyne + Wear
NE11 0NS
www.palintest.com
Compact Turbimeter
ISO 7027 compliant measurement of turbidity in drinking water, wastewater and surface water with Total Suspended Solids (TSS) capability via a user-entered calibration.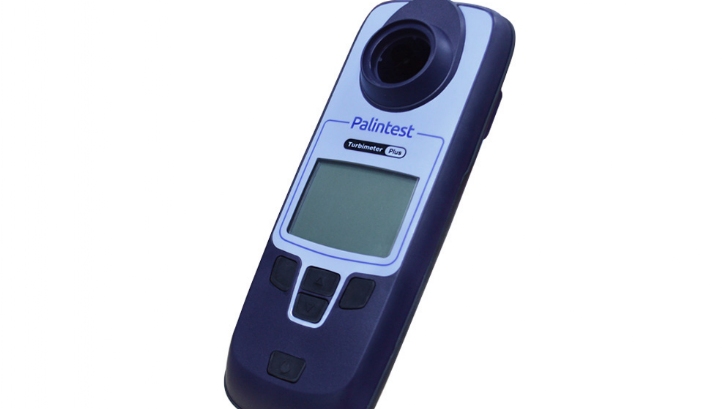 Turbidity and Total Suspended Solids (TSS) are two of the most important indicator parameters for water quality monitoring.
The Compact Turbimeter provides the ideal testing platform using unique QuadoptiX™ technology with a sophisticated yet simple to use instrument.
The Compact Turbimeter provides:
• Maximum reliability and accuracy in the field - the QuadoptiX™ system offers four independent measurement points systems in a waterproof portable instrument.
• Variety of operating/reading modes including Total Suspended Solids, averaging and continuous capture to measure all types of samples effectively
• Comprehensive hard case kit including instrument, calibration standards, sample cuvettes and other accessories
Add to the physical product the sophistication of data log for results and record of calibration data for GLP, the Compact Turbimeter is a key component in any water monitoring package.